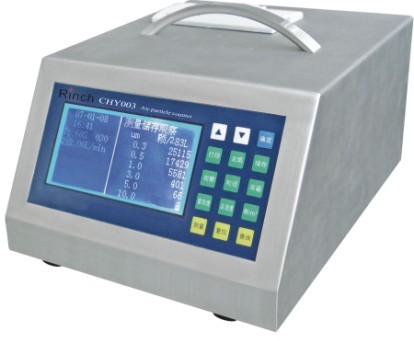 Summarize:
1.Using imported semiconductor laser and photosensitive tube,assure sensitivity and response speed.using imported micropump,assure flow steady.
2.The key component-light scattering sensor obviously eliminate intracorporal stray light,improve SNR, test result more precise and reliable.
3.Confidence meansurement of this instrument is the only one in China meet GB/T16292-194896, realize auto estimate clean class.
4.1000 records can be stored,free to check previous data.PC communication interface.
5.Humiture sensor interface,connect with (optional accessories )humiture sensor can test humiture.
6.AC/DC power,bulit-in battery and rechargeable,working continuously 6 hours.
7.Stainless steel,LCD display,smart,light,beautiful,portable,long-service time
8.Our company using American Royco's particle counter adjust device and Duk's standard particle,assure each product got strict inspection before leave factory,quality is guaranteed.
Service Environment:
Particle concentration limit 400,000/L
Normal atmosphere No strong magnetic field
Power source:A.C220V±5% 50HZ
Features:
| | |
| --- | --- |
| Size channels | 0.3, 0.5,1,3,5,10μm |
| Light source | Laser diode(using hour>30000hours) |
| Flow | 2.83 L /Min(0.1cfm) |
| Deflection of measurement | ≤±10% |
| Error of particle size | 0.5um 5um≤±30% |
| Error of concentration | 0.5um≤±30% |
| Sampling time | User set (1~99min) |
| Sampling delay | User set (1~99min) |
| Sampling rate | 1~99 times or continuous |
| Alarm class | Class100 ~ Class300,000(FED209E Standard)or 5 ~ 9(ISO14464-1) |
| Test type | Singleness/Repeat/Continuous/Timing/Average |
| Data storage | 1000 records |
| Error indicator | Exceed storage,laser died,exceed adjusted flow(>±5%),battery died |
| Communication interface | USB、RS232 |
| Max communication speed | 12MBPS |
| Charging time | 3hours,first time 12hours |
| Self-purification time | ≤10min |
| Concentration limit | "+/-5% at 2000000 particles/ft3 (71000 Particle/L) |
| Display | LCD big screen |
| Print | Built-in printer,Epson ribbon |
| Sampling location | 1000 group |
| Counting type | Cumulative counting,region |
| Power source | Rechargeable lithium battery(7.4V/5200mAH)or AC adapter(100~240V) |
| Battery working time | Continuous working> 6 hours |
| Overall size | 220*285*140mm |
| Weight | 3.6kg |